Valves for marine services
Gate valves
Check valves
Ball Valves
Butterfly Valves
Bottom Drain Valves
Stop Valves
Control Valves
JIS Valves
Quick Closing Valves
Self Closing Valves
Vacuum Valves
Safety Valves
Fire Valves
As Norway has a leading position in shipping, our customers require high quality and long lasting equipment for their vessels. After a 100 years of experience operating vessels under difficult conditions, Norway is one step ahead of the rest of the world with vessels that maintain very high standards to ensure seaworthiness. Norflo has a vast amount of experience ensuring that the valves and accessories that are supplied meet these high standards and perform in the desired conditions.

As time limits can be short for our customers during maintenance, modification or new built, we have the ability to be flexible and supply at short notice whilst making sure that we provide the best possible solution for our customers. If you need just one valve or a large package for a new build, we can deliver high quality marine valves and accessories for the marine sector within a very short time.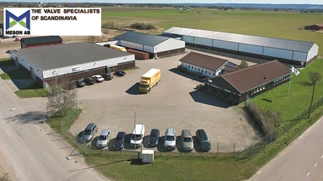 Meson is one of the largest stockholders in Europe, and has stocked valves from over 5000 sq. meters. Sizes range from ¼" to 36". It's a good mix of valves made to ANSI, DIN and JIS. But we also offer tailor made valves. We also represent Wilhelm Sander Fertigung Actuators, which is a part of the Meson Group. In 2011 Meson were awarded self-classification schemes from both LRS (Lloyd's Register of Shipping) and DNV (Det Norske Veritas) which enables reduced lead-time and even more flexibility in service. For a better overview of the products and materials stocked, please call or send us an e-mail, and we will provide you with a product catalogue.